Gates, Deer Fencing, & More
Functional and Attractive Fences that Last!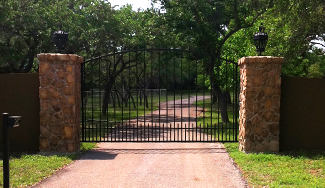 BroadShield specializes in fencing of all types and materials. Fencing is a necessity in rural and ranch living to stake out and protect your property. Many of the popular fences we offer vary from high or deer fencing, metal pipe fencing, barb wire, wrought iron fencing, and wood.
Our team has built fences for a few feet up to miles of ranch-enclosing fences all across South Texas and has the resources and expertise to get your fence built in a timely fashion at a competitive price.
As expected, we use only the highest grade materials, and our installation team are employees of BroadShield as to assure quality and customer satisfaction. Our metal fences are custom fabricated and installed on site.
Popular Fence Types
Deer Fencing
Automatic Driveway Gates & Entries
Barbed Wire with cedar or metal posts
Barbless wire with T-Post
Commercial Chain Link
Tubing with 2×4 non climb fences
Stay Tuff with Post
Pine Post and Rail
Remington Steel
Stucco and Wrought Iron ( ornaments optional )
Privacy Fences
Cattle Guards